10 Best 50 inch LED TVs in India [2021] – A Review & Buying Guide!
I have spent hundreds of hours researching and analyzing the best 50 inch LED TVs in India that can make the most of your money. If you want the best TV that the money can buy, provide a premium feel, amazing picture, and lit smartness, the LG 7290PTD – is the best overall 50 inch 4K Smart TV. Or if you are looking for the cheapest 50 inch TV – the Kodak DX900s. I have listed the best TVs under 30k, 40k, 50k, and Android smart and Non-smart TVs too.
REVIEWS: 10 best 50 inch TV in India under 30, 40, & 50k
[ Disclaimer: The MonsterFPS is reader-supported. We may earn a small fee when you make a purchase using one of the links here with no extra cost to you.]
10. Kodak DX900s – best 50-inch FHD non-smart TV under 25000
Are you looking for a big-screen TV at a low cost? Or maybe you need a non-featured, easy to use television. The latest installment from Kodak is the best of both worlds.
The 50 inch TV comes with a 1080p Full HD display that delivers decent pictures quality. It has a brilliant 178-degree view range and amazing 350Nits super brightness – thanks to the A+ Grade panel.
The Kodak DX900s has a sophisticated slick build, thin bezels, and features black mat finish. The overall finish justifies the price point.
An easy to use, Non-smart television
Not everyone is a fan of "Smart TVs". They prefer the traditional, easy to use, plug-n-play interface. And if you are one of them, then the DX900s must be your thing. It is a non-smart TV which has an interface similar to that of standard box TV. Buy yourself a Firestick if you ever wanted to turn it into smart a TV.
Highlights
Thin material design
Decent FHD picture quality
Nice 20W audio with surround sounds
Automatic volume level
350Nits super brightness
Non-smart TV
HDMI, USB ports
The good
[su_list icon="icon: check" icon_color="#36d301″ indent="14″]
Best for people on a low budget and looking for an easy to use TV.
Suitable for a bright living room, thanks to the 350Nits.
[/su_list]
The bad
[su_list icon="icon: remove" icon_color="#d80606″ indent="14″]
Not the best picture quality.
It is not a smart TV.
[/su_list]
9. Samsung S7 NU7090 – best Samsung 50 inch 4K TV
The Samsung Series 7 brings a new layer to the 50-inch television segment. Turn your living room into a personal home theatre with this 2019 model. The television has a sturdy, and appealing stature.
Breathtaking HDR10 Enabled 4K display
The Samsung Series 7 50 inch model gives you a true 4K experience with vivid Purcolour display that delivers mesmerizing and realistic visuals. In place is the High Dynamic Range and effective 4K upscaling that makes the most of non-4K content.
A Tizen based smart product
All Samsung TVs, including this one, are based on Tizen OS. The smart TV comes with Netflix, Prime, YT, Zee5, and other popular apps preinstalled. Sure you can download most of your favorite apps from the store. Enjoy sharing your mobile content on a big screen.
Highlights
World Class build quality
4K upscaling display with HDR 10
Quad-core processor
A Tizen smart TV
20W Dolby D+ audio, surround sound
60HZ frequency
2-HDMI, 1-USB ports
WiFi-enabled, no Bluetooth
The good
[su_list icon="icon: check" icon_color="#36d301″ indent="14″] 
Excellent Trucolor picture quality
High-quality audio output with amazing surround sounds
Password protection to lock certain contents.
[/su_list]
The bad
[su_list icon="icon: remove" icon_color="#d80606″ indent="14″]
Its a Tizen based, Non-Android, Smart TV
It comes with a standard remote and you need to buy a smart remote separately for the best experience.
It does not support Airplay.
[/su_list]
8. Motorola 50SAUHDM – best 50 inches 4K Smart TV under 40,000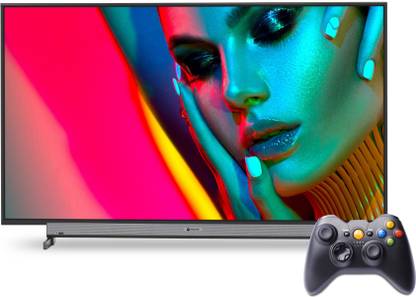 The 50SAUHDM is another popular choice from Motorola. The Chinese set features an eye-catchy metal build with super-thin-bezel construction. It features the homegrown autotuneX 4K display that delivers optimal and sharper visual output.
30W loud Dolby audio with immersive DTS surrounds
The Motorola 50SAUHDM boasts a superior 30W Dolby digital audio that gets crispier and realistic as it gets. A top is the DTS TruSurround for immersive surround sounds.
It is an Android Pie!
The 50SAUHDM brings you the delicious Android Pie with all the awesome features to enjoy. Consume the endless content with preinstalled Netflix, Prime, Hotstar, Youtube, and more. The in-box remote features dedicated buttons for quick access. The 4-core CPU together with 2.25GB RAM ensures lag-proof processing no matter the app you use.
Highlights
Stylish build with a metallic finish
Bright 4K upscaling display
30W Dolby audio with TruSurround
4-Core CPU with 2.25GB RAM
Official Android Pie smart TV
3-HDMI, 2-USB ports
WiFi & Bluetooth connectivity
Comes with free wireless Joystick
The good
[su_list icon="icon: check" icon_color="#36d301″ indent="14″]
Unique design with strong metal construction
Bright 10-bit color depth display and better wide view angles
30W loud front-firing speakers with TruSurround sound
[/su_list]
The bad
[su_list icon="icon: remove" icon_color="#d80606″ indent="14″]
The connectivity ports are way too behind the screen which can be hectic if wall mounted.
Although it has a thin-bezel design the back is a little thick and looks bulky.
Backlight bleeding – A lot of people are complaining of backlight bleeding
[/su_list]
7. Bravia KLV-50W672G – best 50 inch LED TV with long life in India
Next up is one of the most trusted brands in India. It has a world-class profile with stunning looks and long life build. The 50 inch Sony Bravia W672G boasts a terrific Full HD display. Besides, Sony's smart X-reality Pro algorithm and High Dynamic Range makes the visuals breathtaking. The sony ClearAudio+ outputs the thrilling 20W audio with a deeper surround sound effect.
The robust 4-layer X-Protection Pro
This Sony Bravia model is the strongest ever TV with defining 4 layers X-protection Pro. 1) It has the no-ventilation, dustproof body. 2) The TV has humidity safe coating to protect the inside from short-circuit. 3) The dual capacitor safeguards your expensive appliance from fluctuating electricity and 4) and also from lightning.
An LED TV with an array of smart features
The Linux based Sony smart television features some of the most useful features. Apart from a lot of pre-installed apps including Prime, Netflix, & Youtube, you can enjoy USB tethering to enjoy mobile internet straight on a big screen. An all-in-one remote with dedicated buttons for YT and Netflix. The STB pairable controller enables you to enjoy seamless control.
Related: Best 32″ budget LED TVs in India to buy.
Highlights
Excellent build, cable management
FHD 1920x1080p display
20W ClearAudio+ speakers
50Hz fluid visual fixture
Linux based smart TV with seamless connectivity
Screen mirroring available
No Bluetooth connectivity
2-HDMI, 2-USB ports
1Y warranty
The good
[su_list icon="icon: check" icon_color="#36d301″ indent="14″]
The build quality is just awesome and strong looking
Its display and sound quality is equality as per expected
[/su_list]
The bad
[su_list icon="icon: remove" icon_color="#d80606″ indent="14″]
The price is very high for a 50-inch FHD TV but sure it's Sony.
[/su_list]
6. Onida 50UIC – 50 inch UHD 4K TV with VGA port
Next in the list is the Onida 50UIC. The 50 inches 4K smart TV brings about a premium thin build that's just as robust and sturdy as it gets. It offers a 3840 x 2160p UHD 4K screen that has excellent contrast ratio and over a billion color reproduction for crispier and natural like visuals.
Plenty of connectivity ports including VGA
The Onida 50UIC comes with HDMI, USB, and other standard TV-related ports. Noticeably it also comes with a VGA port which is rare in 50-inch models. It is an important port that can help you connect your computer to this beast screen.
The rechargeable smart QWERTY remote
This Onida 50 inch smart TV brings you first of its kind remote with QWERTY keyboard making it convenient to enter web addresses and search queries. As a rechargeable controller, it crosses off the hassle of buying new batteries.
Highlights
Premium and robust build
UHD 4K display with a high contrast
Android smart TV
Rechargeable remote with QWERTY keyboard
HDMI, USB and other useful ports
VGA port for computer connectivity
20W audio output
1Y warranty
The good
[su_list icon="icon: check" icon_color="#36d301″ indent="14″] 
The picture clarity is decent and well lit
Plenty of ports including VGA to help connect your CPU
It has decent audio output with enough loudness and clarity
[/su_list]
The bad
[su_list icon="icon: remove" icon_color="#d80606″ indent="14″]
Onida's after-sale service has always been under the weather.
[/su_list]
5. Mi 4X – Affordable 50 inch 4K Smart television
The Mi 4X is arguably one of the most value for money television. The Chinese title brings you a host of powerful features. It has a 3840x2160p UHD display with the ability to regenerate over 1.2 billion vivid colors and the HDR 10 enabled, 10-bit panel makes the visuals sharper.
The android based Patchwall intelligent display
The robust Patchwall ecosystem is one of the top highlights of the Mi television series. It has an effective algorithm in place that can learn and adapts to your content consumption routine and recommends you with new consumables that you can resist. Infinite content scroll, remote voice recognition, and Chromecasting are few of the Mi highlights.
Highlights
Attractive sleek design
Impressive color enriched display
10-bit HDR 10 panel
20W Dolby+ DTS-HD audio
3 HDMI, 2 USB and plenty of other ports
1Y+1Y warranty on panel
The good
[su_list icon="icon: check" icon_color="#36d301″ indent="14″] 
Modern design with modern features
Cost-effective product
It comes with voice smart remote
[/su_list]
The bad
[su_list icon="icon: remove" icon_color="#d80606″ indent="14″]
Audio output is not up to the mark and you might need externals
Not suitable for bright, daylight lit environment
[/su_list]
4. Thomson UD9 – Cheapest 50 inch 4K smart TV
I am in a little bit of confusion if the Thomson UD9 should be at the top place in the list. Afterall It is the cheapest 50 inches 4K smart TV in India. The UD9 offers a wide range of impeccable features. It adapts to a minimalist design approach making it suitable for modern homes.
A brilliant A+ 4K panel with HDR
The Thomson UD9 features an enriching 4K display that delivers appealing visual experience at the budget tag. It's premium HDR intelligence is well able in improvising contrast and better differentiating dark and bright scene fields.
Highlights
Minimalistic design
3840 x 2160p 4K display backed with A+ panel
Android smart TV with 64-bit backend CPU
20W crystal clear Dolby Audio
Bluetooth & WiFi connectivity
60Hz fast-paced refresh & 6.5ms response time
Plenty of connectivity ports including HDMI & USB
1Y warranty
The good
[su_list icon="icon: check" icon_color="#36d301″ indent="14″] 
The overall looks are fantastic.
The display quality is sharp and bright.
It has a reliable and fast connectivity.
[/su_list]
The bad
[su_list icon="icon: remove" icon_color="#d80606″ indent="14″]
The sound quality is not up to the mark and may require external speakers.
The connectivity ports are a way to back of the screen.
[/su_list]
3. Micromax 49TAUHD – Made in India 4K Smart TV
Next up in the list is the one from an Indian brand, Micromax. Not exactly a 50 inch, the 49TAUHD comes with a brilliant 49-inch 4K display. The A+ panel outputs impressive color accuracy and brighter, natural shades. This Micromax model utilizes the popular HDR algorithm that helps keep the visual experience as true to life as possible.
Made in India for India
The Micromax is an Indian brand so they know the requirement of locals better. Plus it has a selection of Indian languages for interface. So if you want to support or give a try to Made in India then its the time.
The sound that goes the distance.
The Micromax 49TAUHD TV comes with fantastic 30W Dolby boasted audio output which should be enough to save money for external speakers. You can expect a good reach even for a moderately large hall.
Highlights
49" HDR 4K display
A+ Panel that reproduces bright colors
30W Dolby speakers
Android Certified Smart TV
Chromecast inbuilt
Google Assistant-enabled
60Hz refresh rate
2HDMi, 2 USB ports
The good
[su_list icon="icon: check" icon_color="#36d301″ indent="14″] 
The Micromax 49TAUHD delivers impressive picture quality
Audio output is unmatching
Affordable price range
[/su_list]
The bad
[su_list icon="icon: remove" icon_color="#d80606″ indent="14″]
Although the overall model design is good, the bottom bezel could have been better
[/su_list]
2. TCL K31 – best 50 inch 4K smart Android TV under 30000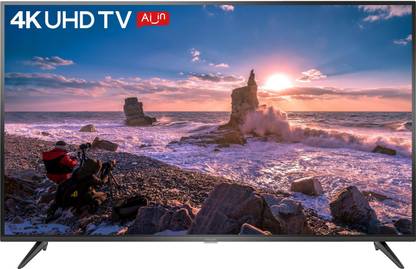 The TCL K31 is another heavily popular TV in the 50-inch segment. It comes with an impressive 3840 x 2160p 4K display that delivers fantastic picture quality.
AI Algorithm for intelligent visual output
TCL has a specially crafted AI algorithm to control visual output for individual scenes. It analyzes your content to manage the contrast, colors, and better lit individual dark and bright spots for the most lively experience.
Android smart with stronger hardware
It is an Android-powered TV that comes with exciting Pie 9.0. You can enjoy all of your favorite apps and stream your favorite series from Netflix & Prime/Video. The Triple-core, 2GB RAM CPU keeps your experience from freezing.
Relates: Top 43 inch Smart LED TVs in India.
Highlights
50 inch TV 4K display
AI picture engine with active HDR & micro dimming
Android 9.0 Smart TV with Google Assistant
Triple-Core processor with 2GB RAM
Chromecast in-built
20W audio output
The good
[su_list icon="icon: check" icon_color="#36d301″ indent="14″]
The picture quality is nice.
Audio output is loud and clear enough
A lot of exciting smart features
Wifi connectivity is good
[/su_list]
The bad
[su_list icon="icon: remove" icon_color="#d80606″ indent="14″]
Bluetooth only connects to speakers
[/su_list]
1. LG 7290PTD – The best 50 inches 4K smart TV under 50000
The LG 50UM7290PTD brings you an ultra HD 4K display that delivers a depth of visual experience. It has the Dynamic Colour Enhancer that reproduces richer, natural colors and ample contrast that makes pictures come alive.
The robust premium design
The LG television unpacks a robust design with minimalistic bezels and black mat finish that lasts for a decade. It makes your living room look more modern and stylish.
The smart features for smarter you
It is a non-Android, Web-OS based smart TV which adapts a simplistic yet sophisticated approach. The appliance has an easy to use UI that anyone can enjoy. It comes with most of the modern features and apps that you will ever need on your TV. It features dual voice assistants (including Google & Alexa).
Next-gen 3D sound experience
The LG 50UM7290PTD features DTS: X, a highly-advanced audio processor that gives you a 3-dimensional sound experience without buying extra speakers.
Highlights
50-inch 4K display
Dynamic color enhancement
Active HDR upscaling that amplifies every scene
20W DTS:X 3D sounds
50Hz frequency
AIThinQ Smart TV with Google & Alexa assistant enabled
Screen mirroring
3 HDMI & 2 USB ports
The good
[su_list icon="icon: check" icon_color="#36d301″ indent="14″]
Unmatching picture quality depth of vivid colors
Thrilling DTS:X sound experience
Plenty of ports for connectivity
Attractive smart features with Netflix, Prime, Hotstar pre-installed
Great value for money deal
[/su_list]
The bad
[su_list icon="icon: remove" icon_color="#d80606″ indent="14″]
The internal storage is only 4GB.
The TV comes with standard remote – Magic one needs to be bought separately
[/su_list]
Hot right now!
[amazon bestseller="best 50 inch smart tv" items="3″]
The LED TV Buying Guide
Now let's get into nuts and bolts and learn what drives the television performance so you can make a better decision.
Resolution
The resolution determines the clarity and details of the picture. The higher, the better. The 4K (3840x2160p) is the most popular resolution within fifty thousand budget.
Refresh rate or FPS
The refresh rate is the number of images a monitor can display in a second. It is measured in Hz or Frames Per Second(FPS). The most popular refresh rate is 60Hz. But 50Hz is not bad either. Higher than 60 is usually not required.
Contrast ratio
Its the property of the display. The contrast ratio is the ratio of the brightest to the darkest color that display produces. The higher contrast means crispier images and also low eye strain.
Ports
There can be a variety of different ports like HDMI, USB, RCA (old type) that today are built-in with smart TVs. HDMI is necessary if you ever want to use your TV as a monitor.
Viewing angles
Its the range of angles up to which you can see the screen with proper details. The 180° probably is the best possible range. It means you can see the display correctly from any angle.
Panel
Let's talk about TN and IPS panels for this post. TN panel monitors are most affordable. They offer a faster response rate. IPS panels, on the other hand, are better at the clarity, viewing angles, and energy-efficient.