TOP 10 Best Monitors Under 15000 in India [2021] – A Review & Buying Guide!
One monitor doesn't fit for all. But finding the best monitor for your needs (be it gaming, editing, WFH, or programming) can be time consuming and at tedious task.
At MonsterFPS, I simplifies it to save your money, energy and time. I have put together the top 10 best monitors under 15,000 as per user ratings and popularity.
For those in hurry and want to know about top pick's right away – The AOC G2590VXQ – is the best monitor under 15k rupees in India with its brilliant 24.5″ Full HD display, blazing-fast 1ms response time, and superior gaming performance. For graphics designing and photo-editing professionals I would advise the HP EliteDisplay that boasts impressive colour reproduction. And the Samsung FHWXXL is the best-curved monitor under 15k.
And now, with highlights being covered, its time we jump into our in-depth reviews.
COMPARISON: 10 best monitors under 15000
REVIEWS: 10 best monitors under 15000
[ Disclaimer: MonsterFPS.com is reader-supported. We may earn a small fee when you make a purchase using one of the links here with no extra cost to you.]
10. HP 24F – best 24 inch monitor
[amazon box="B07DT3SSMT" image_size="large" title="HP 24F"]
24″ Full HD IPS display
Anti-glare coating for soothing view
Premium bezel-less design
HDMI & VGA ports
Blazing fast AMD Freesync
60Hz refresh and 5ms response rate
3Y warranty
[/amazon]
The 24F is one of the thinnest LCDs from HP. It has a stylish and vibrant view from all angles with a sleek design. However, you will be surprised with the IPS panel as the colors are vivid and bright. Some other exclusive features are-
Bezel-less Display
1920 x 1080 resolutions edge to edge display will surely deliver an extensive entertainment experiment.
HP Enhance+
This feature improves the image resolution with advanced noise reduction technology. As a result, you can see crispier videos and images.
Energy Efficiency
24F can reduce your electricity bill as it meets strict environment friendly and energy-efficiency with less carbon emission.
Final verdict
It is a general-purpose monitor. It is excellent for internet browsing, watching movies, and MS-office. You can buy it to give your room or office desk an elegant look. If you are looking for 24″ models only, then check out our best 24″ monitors here.
9. BENQ GW2780 – best for video editing under 15K
[amazon box="B073NTCT4R" image_size="large" title="BENQ GW2780″]
27 inch IPS display
Crispy, full HD resolution
16:9 wide aspect ratio
60Hz refresh rate
4Watts in-built speakers
HDMI, VGA, Audio & Display ports
[/amazon]
The GW2780 is a sleek designed monitor for home and office. Its 1080p resolution with IPS panel makes it great for browsing web pages, viewing documents, or colourful content. Core features are-
Colour Weakness Mode
This mode helps a visually challenged person to adjust the red or green displayed on the monitor with red and green filters. However, it also eliminates eye strain in any ambient light.
Brightness Intelligence Technology (B.I.Tech)
BI.Tech controls the content intensity and avoids overexposure of bright visuals while enhancing the dark areas. It also optimizes display performance while working or playing.
Similar: Check out the 10 best monitors video editing here.
Final verdict
If you are looking for excellent build quality with a sturdy stand and natural colors, I guess BENQ GW2780 will serve your desire. It is incredible for official use and video editing professionals as well. However, the Eyecare feature might seem a bit aggressive.
8. LG 25UM58 – best ultrawide monitor
[amazon box="B01BV1XB2K" image_size="large" title="LG 25UM58″]
25″ IPS display
2560 x 1080p ultra-wide resolution
21:9 aspect ratio
HDMI, VGA, Audio, Headphone port
Flicker-free, blue light filter screen
5ms response, 60Hz refresh
4-Way slip screen
[/amazon]
When it comes to enjoying gaming on a wide view, LG 25UM58 is the model you can trust. It is a luxurious but value for money display, which is perfect for gaming and movies. It also has some immense features includes-
21:9 UltraWide FHD IPS Display
21:9 aspect ratios can bring the game and movies in reality with 1080p full HD. Every detail of the video looks crisper with Over 99% sRGB.
Interesting: Love ultrawide monitors? The best ultrawide monitors in India.
Screen Split 2.0
Multitasking was never thing good before this latest version of LG Screen Split. You can create multiple windows screens at once and boost your productivity.
Game Mode with Advance Features
You can set the mode for optimal gaming conditions. In contrast, advanced gaming features offer dynamic action sync and black stabilizer options.
Final verdict
For me, it is one of the best monitors for gaming. Besides, professional photographers and graphic designers may consider this one for their work too. I would also say it is almost all-rounder. However, the height might seem smaller for some users.
7. HP EliteDisplay – best monitor for graphics design
[amazon box="B07CCK7728″ image_size="large" title="HP E233″]
23″ IPS display with anti-glare coating
FHD resolution
Modern slick design
HDMI, VGA, Display & USB ports
Adjustable height, swivel, tilt, and pivot rotation
[/amazon]
EliteDisplay E233 is a three-sided micro-edge bezel monitor for seamless multi-display tilting along with a 4-way adjustability feature. This budget-friendly modern full HD monitor is made for optimal viewing, comfortability, and productivity. It has a minimal color shift and contrast that helps retains appropriate colors with a premium wide viewing experience. All these options make it an ideal choice for photo editors, graphic designers, and engineers. The following are the top-notch features of HP E233 23-inch Monitor.
Comfortable
E233 is very convenient as you can adjust the height, tilt, swivel, and pivot. These adjustment features give absolute comfort to the eye, shoulder, and neck. Swivel adjustment allows sharing screen with others without visual distortion.
Full HD Display
1920 x 1080 Full HD resolution with 23″ diagonal IPS screen lets you expand the productivity. The display has a 3-sided micro-edge bezel, which allows virtually seamless arrays.
Connectivity
It comes with 4 quick & easy connectivity options that include two USB 3.0 ports, VGA and HDMI. However, USB accessories can be connected right at the display through the USB ports.
Final verdict
This monitor is great for graphic designers and the professionals sitting in front of screens for a longer duration. However, this is not the right monitor for gamers. My brother, who is a graphic designer, bought it a few months ago and he is delighted. The only thing that slightly bothers him is that this is not a matte finish, and the anti-glare works partially while facing daylight from the window.
Click here for more top PC monitors for graphics design.
6. LG 24MP – best IPS monitor
[amazon box="B01BGI6GZC" image_size="large" title=" LG 24MP"]
23.8″ IPS screen
Borderless display
Full HD resolution
60HZ fresh & 5ms response rate
HDMI, VGA, Audio-out, Audio-in, & headphone ports
Inbuilt speakers
[/amazon]
Can you think of a 24″ monitor with IPS panel along with high picture quality, including inbuilt speaker under 15000? Maybe not! But, LG made it happen, which also has an anti-glare coating. Other tremendous features include-
HD display with accurate color
With sRGB over 99% and the IPS display, you can see the true colour from any angle.
Black stabilizer
Lost your vision in deep-dark scenes? Don't worry, LG got you cover. Now, you can have full visibility even in the dark scenes. It also offers a great colour vision for the colour weakness individuals.
Borderless
The four-side borderless display will give you immersive visual experience without any distortion.
Speakers
24MP88HV contains 5 Watt inbuilt Speakers with Rich Bass to enjoy clean high- pitched sound.
Final verdict
It is great to watch movies on it as it has a wall mount option. Photo editors can include it in their work station. I would mention one con, which is, using a VESA mount will not be feasible because screw ports are located way up the monitor edge.
5. LG 24MP59G – best gaming monitor
[amazon box="B06XDY3SJF" image_size="large" title=" LG 24MP59G"]
24″ FHD display with Anti-glare coating
vibrant colors
16:9 aspect ratio
1ms response, 75Hz fresh rate
Flicker-free technology
AMD Free sync
Game mode
HDMI, VGA, Display, Audio, & Headphone port
[/amazon]
It is a high-end monitor made solely for gamers. 24MP59G contains a variety of gaming features to enjoy a superb gaming experience. The features you cannot overlook are-
1ms Motion Blur Reduction
Activating this feature will reduce the motion blur by turning off the backlight automatically. So, it doesn't use a double frame and enhances the response time.
Fluid Motion
LG 24MP59G complies with the AMD FreeSync technology to incorporate the monitor's refresh rate and graphic card's frame rate.
Game Mode
It has varieties of game modes in the picture option for different gaming genres. Moreover, shooting games become a reality with the black stabilizer option.
Related: Hey gamer? Click here for the best gaming monitors under 20,000 in India.
Final verdict
To me, it is the best monitor under 15000 for gamers and ideal for competitive gamers who are on a budget. The LG 24MP59G has a robust response rate and a premium profile. However, as a TN panel-based monitor, the color reproduction is not up to the mark for colour conscious work like editing.
4. Samsung F390 – 23.5″ curved monitor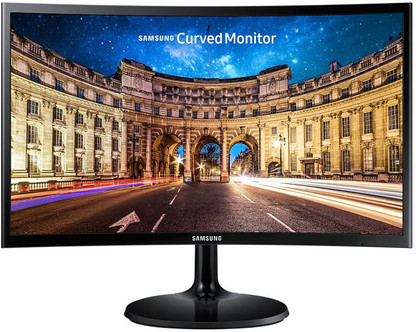 23.5″ Curved screen
Full HD IPS display
Better view range, low eye strain design
4ms response rate
16:9 aspect ratio
HDMI & VGA ports
Here's another great curved monitor from Samsung, but this one is sized at 23.5″. I liked the viewing angle of this monitor, which is 178 degrees horizontal and 178 degrees vertical. And obviously, it also has curvature 1800R.
Immersive Viewing Experience
If you want to feel the iMax theatre at your home, this is the monitor you would want. You can get big, bold, and stunning panoramic views to get your eyes a comfortable and enjoyable viewing experience.
Ultra-slim design
It will give a modern look of your home or workplace with a 0.5-inch thick design.
Flicker-free technology
It reduces eye strain and makes the display comfortable to use for a longer period.
Final verdict
If I compare the monitor quality with the price, trust me, this is the best thing you can get. I can confidently tell that it is one of the best monitors for all-purpose at home or office. Besides, Image and video editing tasks can be done quickly through this curved LED-backlit monitor. However, it doesn't have any height adjustment option.
3. Acer KG241QP- best 144Hz gaming monitor
[amazon box="B07MSKN6CS" image_size="large" title="Acer KG241QP"]
24″ & 27″ IPS variants
FHD resolution
Unmatching 144Hz refresh rate
1ms response rate
300 Nits brightness
Dark level adjustment for better color depth
Wall mountable
[/amazon]
The Acer KG241QP is yet another budget-friendly monitor that focuses on speed. It's based on a TN (Twisted Nematic) panel, which provides 300-nit peak brightness with a static contrast ratio of 1,000:1 that delivers an average image quality. Two incredible features of Acer KG241QP I cannot deny are-
Speed
1ms response time with a 144 Hz refresh rate can display over twice as many frames per second than a standard 60 Hz or even 75 Hz one.
Dark Level Adjustments
It has a dark level adjustment feature, which allows optimizing darkfield through a black boost system up to 11 levels. Therefore you can see every dark detail at a glance.
Final verdict
Considering the performance, it is one of the cheapest gaming displays. It will surely outweigh other gaming displays under 15000 segment. This Acer monitor comes in two variants; 24″ display + 144Hz refresh rate & 27″ display + a 75Hz refresh rate with a negligible price difference. On the con side, the model doesn't have ports for 3.5 audio output.
2. Samsung FHWXXL – 27″ curved monitor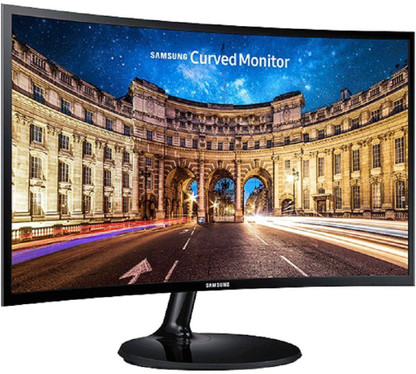 27″ curved screen
FHD VA display
16:9 aspect ratio
60Hz refresh & 4ms response rate
1800R screen curvature
VGA & HDMI port
It is one of the curved monitors in the world which may give you the iMax theatre experience. 1800mm radius of the arc creates a wider view, which enhances the perception. Additionally, it has some unique features. Those are-
1800R screen with Eye Saver
The 1800R screen is built in a way that allows your eye to track everything on the screen without putting extra pressure on your eyes. Moreover, the eye saver mode provides a comfortable viewing experience and reduces eye fatigue.
Superior image quality
3000:1 contrast ratio delivers brilliant whites, deep blacks, and rich colours for bright and vibrant images. Furthermore, Curved technology reduces light leakage from the screen edges.
Eco-saving Technology
This technology adjusts display brightness based on the luminescence of screen blacks, which reduce energy consumption by up to10%.
Final verdict
3000:1 contrast ratio with Sharp display and vibrant colour reproduction surely makes it the best monitor for video editing under 15000. Also, you can connect with another monitor to set it up as a dual monitor.

1. AOC G2590VXQ – Best gaming monitor under 15K
[amazon box="B078S36XWV" image_size="large" title="AOC G2590VXQ"]
24.5″ IPS FHD display
1ms response & 75Hz refresh rate
Anti-glare coated screen
Free Sync supported
In-built speaker
Wall mountable
HDMI, VGA, and display port
3Y Warranty
[/amazon]
G2590VXQ is considered as one of the best gaming monitors under 15000. This budget-friendly AOC 24.5″ monitor has 1ms response time with a 75 Hz refresh rate. It also provides AMD FreeSync support to ensure smooth responsiveness with a fast TN panel in Full HD. I have found 2 extraordinary features of AOC G2590VXQ, let's dive in it.
A refresh rate of 75 Hz
It has an upper edge refresh rate while a regular monitor offers 60 Hz. The display panel in G2590VXQ draws 75 frames each second, which is 25% faster than any other display available in this price range.
Shadow Control
It is the most underrated feature of this display! It has the capability or blighting the dark areas or push them back into the blackness whenever needed. And, this process doesn't affect the rest of the display. Isn'tIsn't it cool?
Final verdict
As I said earlier, it is the best gaming monitor, and I am sticking to that. I will not recommend this to the user who wants an all-rounder display.
Find more top monitors with built-in speakers in India here.
Your call!
Its time for the wrap now. I hope this suggestions helped you in getting clarity. It took me multiple hours in which I compared over 43 different models from various sites like Flipkart, Amazon and PayTM. I also went through critical reviews, specification and other parameters to name a few. So yes, this are definitely the best monitors to go for the budget under fifteen thousand rupees.
And finally, you will also want to have glimps of this best monitors under 10,000 in India (if above didn't sync with you) or the best monitors for photo editing over here.