The 9 Best Monitors Under Rs.10,000 in India [2021] – A Review & Buying Guide!
The best monitor under 10000 rupees in India is the LG 22MP59G. It has the perfect combination; a 24″ crisp FHD IPS display and the 75Hz refresh rate together with 1ms response number, which makes it the ultimate choice for lag-proof gaming. The next runner up that you can count on is the BenQ GW2480, which has an impressive eye care display that supports your long sitting sessions.
And now with that being covered, lets dive deeper into the details.
Below, you are going to find the top 9 monitors under 10k that are must for your office, photo-editing, gaming, and for movie consumption.
Comparison Table
MONITOR

SCREEN

PURPOSE

23.8" IPS
FHD

All Rounder

21.5" IPS
FHD

75Hz Gaming

21.5" IPS
FHD

Movies

21.5" IPS
FHD

Office

Curved
24" VA
FHD

Entertainment

21.5" IPS
FHD

Photo-Editing

22" IPS
FHD

Graphics
Design

24" IPS
FHD

For long hours

24" IPS
22" IPS

Heavy Gaming
Editor's Reviews
DISCLAIMER: The MonsterFPS is readers-supported. So we may earn a small fee when you make a purchase using one of the links here.
9. AOC 23.8 inch – the bezel-less monitor
Are you into modern designs? Maybe the stylish look is vital to you. Well, then, how about the AOC 24B1XHS? This 21.5 inches Taiwanese LCD monitor is undoubtedly one of the most sophisticated monitors out there under 10k. The 3-Way bezel-less attire and premium stabilizing stand give it quite a look.
AH-IPS Full HD technology
The AOC involves a modern AH-IPS panel and full HD 1920x1080px resolution that delivers the most accurate picture quality. It also has 180 degrees of no-color-loss viewing range. The monitor comes with the flicker-free technology that reduces strain and eye-fatigue when used for longer durations.
Built-in headphone jack
One of the best parts about AOC is its built-in 3.5 headphone jack, located right behind it. Good news if you are into enjoying a plug-and-play in the middle of work.
RELATED: Top 10 monitors for video-editing in India
Highlights
Attractive modern bezel-less design
23.8" IPS FHD display with anti-glare
180-degree viewing range
7ms response rate
60Hz frequency
250 cd/m2
VGA, HDMI & Headphone jack
4.2 out of the 5-star review
Not for gaming
3Y warranty
Good for
This monitor is best for office work, movies, photo-editing like things, for home use and places with bright-environment like near window.
Bad for
Due to the low response rate, it's not ideal for games where you need a quick fast response rate from your display.
8. ASUS 21.5 inch – best gaming monitor under 10k
Next in the list the all-new Asus VP228H full HD monitor. With TN panel technology employed and over 16.5 million colours, this monitor probably delivers one of the most enriched visual experience.
The 21.5-inch screen has flicker-free, blue light filtering tech up in there to ensure the least strain and pain to your eyes when you're playing for longer durations.
The superb response rate for gaming
Although the monitor has a standard looking profile, that gap is filled with performance. This monitor has fanatic 1ms of (GTG) response rate for the most fluid visuals.
GAMERS? Here's our handpicked list of best gaming monitors under 20,000 Rs in India!
In-built speakers
No worries if you don't have other speakers yet. This value for money monitor comes with 1.5 watts stereo speakers in-built which can keep your regular audio requirements met.
Highlights
1ms of response & 75Hz refresh numbers
TN Panel
21.5 inch FHD + 16.5M color display
Flicker-free & blue light filter
Fluid visuals
1.5 Watts speaker
HDMI, VGA ports
3Y Warranty
4.5/5 star ratings
Best gaming monitor
Technically, the ASUS VP228H is the monitor with over the top gaming performance. Perhaps the best gaming monitor under 10000. But only if your needs are for graphics design, it might not be the right choice for you.
Good for
The impressive 1ms response and 75Hz refresh rate make ASUS ideal for high-end gaming and esports. It's also useful for office and other things.
Bad for
Due to TN panel, ASUS is not advisable for graphics and photo editing related work where the focus is on every pixel.
7. Lenovo 21.5 inch AMD Free-Sync monitor
Next up is the Lenovo. The L22E monitor features near-edgeless, aka 2mm thin-bezel body and impactful dark color. Display features are quite Impressive. With 21.5 inches Full HD display, power-packed with In-Plane Switching (IPS) that generate the pictures with the most vivid colors and remarkable 178-degree range of view.
AMD Free-Sync for high-end gaming
What makes this panel so unique is its AMD Free-Sync support. This specification together combed with AMD Radeon powered CPU gives the maximum boost to your entertainment experience, including games and movies. But remember, its the best monitor under 10,000 for gaming only if you have AMD Radeon system.
Highlights
21.5" IPS FHD Panel
Brighter colors
178-degree viewing range
14ms of response time
HDMI, VGA
AMD-Free Sync for a robust gaming experience
3Y Warranty from manufacturer
Best for entertainment
The Lenovo L22E is one of the most aspiring monitors with natural color IPS 21.5 inch display. Its faster response rate and AMD-Free Sync together make it a perfect fit for high-performance gaming, movies, and more.
6. HP 21.5 inch Anti-Glare – best ultra-slim monitor
Are you looking for the no-fat, slim monitor? Then look no further than HP 3WL45AA 21.5 inch screen. The superb ultra-slim profile gives the monitor one of the most astonishing outer view. And the performance is not far behind the shine. The Vibrant IPS class vibrant display is coated with a top-quality anti-glare layer to ensure maximum viewing pleasure.
Made for your eyes
This beauty is made to soothe your eyes as it doesn't just look but perform even better on your eye. Thanks to its low blue light mode+anti-glare, which makes this less straining to the eyes and makes it perfect for long hour users.
Highlights
21.5" Vibrant color IPS panel
1080P FHD display
178-degree viewing range
Low blue light mode
Anti-glare coating
Whopping 10M:1 dynamic contrast
HDMI, VGA & Audio ports for connectivity
4.5/5 star ratings
Best for long hour users
HP is one of the most authentic computer manufacturers. And the quality is apparent with this 21.5-inch display. Everything is just perfect to make it one of our best monitor under 10000.
Good for
This monitor is suitable for office, graphics, and photo-editing related works due to its high picture quality and better color reproduction.
Bad for
This HP monitor has a response of 14ms, which is pretty slow for high-end games that demand a quicker response rate. You wouldn't wont to use this monitor for something that requires a fast response.
5. Samsung 24 inch – best-curved monitor under 10000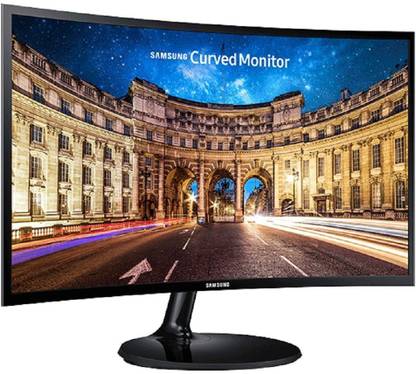 How about a next-gen display screen? Heres the impressive Samsung LC24F390FHWXXL with mesmerizing 24″ curved full HD profile. The screen properties include VA Panel with multi-million colors for more natural picture production. It also has an excellent 60Hz frequency and 4ms of response time that hones all gaming players.
Lucid curved display
This Samsung monitor comes with an exclusive curved VA panel that boasts superior picture quality. It is the only display under 10,000 that features a curved screen.
AMD Free-Sync
The display goes furious when used with the AMD system and gives you additional frequency boost making the images look break-free.
Highlights
24" Large VA FHD Screen
250 cd/m2 Brighter and sharper display
Curved thin profile
16:9 Aspect ratio
4ms response time & 60Hz refresh rate
178-degree of viewing range
VGA & HDMI Connectivity
3Y Warranty
⅘ star rating
AMD Free-Sync
Suitable for gaming and heavy use
Looking for the curved monitor under your budget? Just go get this Samsung model, there's nothing like it.
Good for
This monitor is suitable for work, movies, and other entertainment purposes. And since it has an audio-out port, you can also use it as monitor+TV. The curved design keeps the eye strain at bay. It is a great option to try out curved screen technology.
Bad for
It is a relatively drawback free monitor. But I would like to warn you that some people do not find the curved screen a pleasing experience.
4. HP 21.5 inch Silver – best monitor for photo-editing
HP 22ES is one of my favorites without a doubt. I love the way it looks. It's so stylish and an attractive thin profile just shines your eye. And that's probably why its also amazon choice monitor with over 900 9+ ratings.
But apart from just looks the monitor also has some seriously good performance score.
The IPS FRC technology
The Monitor features the 21.5 inch full high-definition IPS FRC tech display to reproduce the best in class picture quality. It is packed with the in-plane switching. The contrast and aspect ratio are 1M:1 and 16:9 respectively. And last but not least, the screen is coated with an Anti-glare+blue light filter to takes care of your eye health.
Highlights
Beautiful slimmest profile
21.5-inch FHD display & anti-glare coating
IPS panel & 16.9M colors support
7ms response rate
HDMI, VGA ports
4.9/5 ratings
3Y of warranty
So HP 22ES is a beautiful monitor. To modernizes your desk and makes it look next-gen. Be it office use or home, its the deal for all.
Good for
The HP 22FW is a monitor of fair squire features. It is excellent for office use, photo editing, programming, entertainment, and even for hardcore gaming. The monitor is substantially bright, so it's perfect for a super lit environment like near the window.
Bad for
The thing that is wrong with this monitor is the narrow tilt range, and you can only move the screen little up and down. So if you don't have a proper desk setup, then this might be an issue.
Editing professionals: Find the best monitors for graphics design and photo-editing.
3. LG 22 inch FHD IPS – *most popular*
Now here's one of the topmost selling monitors under 10000 rupees in India. The LG 22MP68VQ has pocketed over 1150+ 4.5/5 verified reviews on Amazon alone. The LG good has a premium thin-bezel profile that is as good as it can be. It comes with an FHD display that delivers perfect DPI in 22″ size. The monitor is color calibrated out of the box and is color enriched.
Powerful 4 screen split
The LG display comes with its own powerful split-screen mode other than one commendable by the CPU and hence giving you more control over splitting and accessing multiple apps at a time.
Edgeless display
You are about to get the super attractive screen that is borderless on three out of four sides which just looks superb.
Limitless connectivity options
The monitor comes with ports for HDMI, VGA as well as for audio ports and headphones for maximum fun and entertainment.
Highlights
22" enriched IPS FHD display
Color calibrated
Brightness: 250 cd/m²
Anti-glare coating
4-screen split
AMD Free-Sync
up to 75Hz refresh & 5ms response
HDMI, VGA, audio & headphone port
178-degree viewing range
Wall mountable
LG 22 inch display is the one everyone buying. It has an edgeless display and accurate color reproduction and a powerful built-in system for split-screen and more. Best gaming monitor under 10000 Rs.
Good for
This monitor is suitable for a wide range of users. Its premium-grade picture quality and enriched colors make it best for graphics, editing, gaming, movies and just about anything.
It goes perfectly with your Mac. This monitor has audio out ports too in case you are planning to use speakers.
Bad for
None. Just the stand is a little flimsy, so just know that if you are going to buy it.
2. BenQ 24 inch FHD – best monitor with built-in speakers
At number 2 in the list of best monitor under 10000 is another Taiwanese creation. The BenQ GW2480 is the 24 inch IPS grade full HD display that comes with highlight built-in speakers.
250 cd/m² adaptive eye care brightness
One of the highlights of the display is its adaptive brightness, which adjusts automatically according to the surrounding and blue light filter that keeps your eyes from unwanted strain. The display feature flicker-free properties which prevent vision fatigue.
With 2 watts built-in speakers
It is only the other monitor under 10000 rupees that comes with built-in speakers (2x1watts each), eliminating the need for your part-time speakers to enjoy your music.
Highlights
24 inch large IPS grade FHD panel
Regular thin profile
Adaptive brightness and blue light filter
Flicker-free screen
2W Built-in speakers
5ms, 60Hz response time & frequency resp.
HDMI, VGA & audio & headphone ports
3Y Warranty
Amazon Choice
4.5/5 ratings
Best for office and home use
Good for
The monitor has vibrant colors and an eye-friendly screen, which makes it perfect for those who stare at the screen for long hours. Office use, home, movies are high on it.
Bad for
This monitor is not recommended for places with high daylight due to low brightness. It's not advisable for gaming and color-sensitive works like photo-editing.
Like speakers? check out our top monitors with inbuilt speakers here.
1. LG 24MP59G – best 24-inch monitor under 10000
Here's the crown holder. The LG 24MP59G is the best monitor under 10000 in India. The display has a sturdy profile that looks more sleek and superior. As for the technical specs, the LG brings you an excelling 1080p full HD resolution that renders the crispier output with enhanced dark and bright differentiation. Along with that, some other remarkable features include anti-glare surface treatment and –
1ms response & 75Hz of refresh rate
One of the most prominent specs that makes it the best for gaming is the furious 1ms response time and 75Hz frequency, which eliminates the input lag together with AMD Card. The results are fluid video performance and a reduced blur for graphics-heavy games.
Highlights
24" IPS FHD display
16.7 million colors
Effective anti-glare surface treatment
178-degree view
Furious 1ms response time
75Hz refresh rate with AMD card
AMD Free-sync
HDMI/VGA/Audio/Headphone ports
3Y Warranty
Best for games and movies
It's my favorite model for the stunning predator looks, seamless display, and robust response and refresh rates. And these specifics are at the core of ideal gaming/graphics heavy monitor.
Good for
The monitor is quite a deal for the hardcore gamer and movie maniacs.
If you are looking for a power-saving option, this is the monitor to go after.
Expect the GOD mode performance when combed with the AMD system.
Bad for
The color accuracy and contrast are not up to the mark, which is essential for editing professionals.
Plus, it has a delicate stand.
Must Read: Top 3 24-inch monitors in India in 2020.
What to look for when buying a monitor
The difference isn't just of size in computer monitors. There are a lot of other essential factors that impact performance. The following are some of these factors that you should consider while choosing yourself the right monitor.
Display panel
There are three popular panel types; TN, IPS & VA. It is the way LED panels are constructed. All these three types serve a different purpose. TN provides a higher response rate but is poor at color reproduction. IPS, in contrast, is excellent at color reproduction but lacks a blazing fast response rate required for high-end gaming.
Resolution
The resolution is the pixel density of the LED display. The 720p, 1080p, and 1440p are most popular resolutions. Having low resolution on a bigger screen dilutes your picture clarity. Additionally, the higher the resolution gives you a crisper picture and adds up more load to your CPU.
Refresh rate
It tells you the number of images a monitor can show every second. The refresh rate is also called frequency and measured in Hertz (Hz). The popular orate is 60Hz. A higher refresh rate gives you smoother scene experience in rapid action scenes.
Response time
Its the time lag between keyboard input and visible response on the monitor screen. The time lag is most noticeable in the action-packed game and is a problem with the low-end monitors. TN panel delivers the best response and IPS the worst.
Ports available
It is an imperative factor that you must be checking while making a choice. You should make sure your monitor has most of the ports available that you will ever need. Some of the must-haves should be HDMI and audio jack.
Height adjustment, swivel/tilt, and VESA
Many people have comfort issues and need to adjust the screen height or tilt or swivel the screen for a better view. A very few budget monitors allow you to do it.
The VESA is also a must in case you are planning wall mounting.
Here's the definite PC monitor buying guide in case you want to learn it all.
Over to you!
Time for the wrap! The above are the top monitors out there under 10k rupees. It took me hours of extensive research to come up with this list. Each monitor in this list is unique and best suited for a specific use. So figure out your needs first, and drive from there. And if your budget is low then also check our affordable PC monitors under 6k.
And if you still have a question or anything, just feel free to drop a comment below.